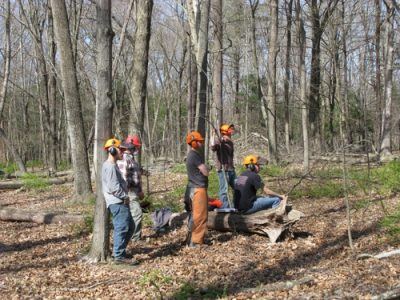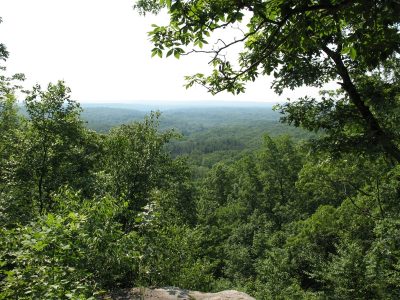 UConn Forest consists of 2,100 acres of forestland distributed among parcels of various sizes in the Storrs vicinity. UConn Forest is managed by a committee of faculty and staff under the umbrella of the Department of Natural Resources and the Environment.
Management goals for UConn Forest include:
Maintain the health and natural biodiversity of the forest ecosystem.
Facilitate research opportunities for faculty and graduate students.
Create and maintain an outdoor classroom teaching environment where University students and Cooperative Extension clientele can gain knowledge, develop skills and obtain practical experience in renewable natural resource conservation.
Demonstrate state-of-the-art forest management practices appropriate for private forest landowners, land trusts and municipal forests, including practices designed to improve wildlife habitats, produce high value wood products, protect water quality, protect rare or endangered species, enhance recreational opportunities and demonstrate innovative alternative income opportunities.
Maintain periodic income from harvests to support student projects and the UConn Forest Crew.
Woodland parcels that collectively comprise UConn Forest include:
Fenton Tract - Approximately 570 acres adjacent to campus north and east of Horsebarn Hill, extending eastward to the Fenton River
Moss Tract - North of campus, mostly in the Town of Willington, approximately 416 acres bisected by Daleville Rd.
North Eagleville Tract - West of campus, 139 acres to the north of North Eagleville Rd and east of Bone Mill Rd.
Spring Hill Tract - Located south of campus in Mansfield Center, 208 acres between Rt 195 and Chaffeeville Rd.
Spring Manor Farm - On the west side of Rt 32, across from the entrance to the composting facility, approximately 20 acres of mostly white pine trees.
Willimantic Tract - South and west of campus, approximately 50 acres on the east side of Rt 32. No formal hiking trails are established on this parcel.
New Sign Kiosks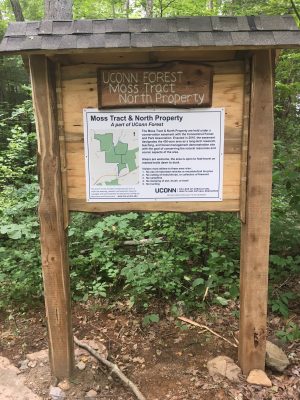 Hikers might have noticed that we have new sign kiosks at some trailheads in the UConn Forest. These are a project completed by the UConn Forest Crew this summer. They are entirely manufactured from material grown in the forest, harvested, and processed here. We are planning to add more to the remaining trailheads throughout the UConn Forest system.